I'm going to attempt to write an update at the end of each day at SxSW. We'll see how that goes, but if this day was anything like the next four, I'll certainly have some fun stuff to report. Oh and if you like you can see all my pics while I'm at SxSW here.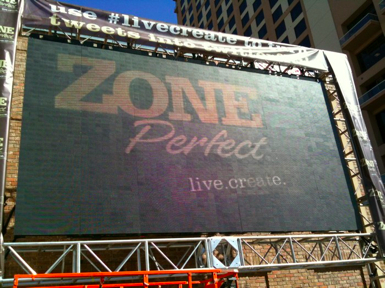 I arrived in Austin early afternoon and after checking in (yes on Foursquare, MyTown, Gowalla and Whrrl but I meant at my hotel), Josh and I immediately went to the ZonePerfect live.create. Lounge. It's an AMAZING venue that Engauge produces for Zone as a part of SxSW and you can read more about it here.
Engauge created a gigantic digital screen outside of the venue that pulls in live tweets and does some pretty cool artistic effects with them. The screen also displays the MyTown contest leader board. So far there has been crowds of people standing in front of it tweeting to get their name/avatar/tweet on the big screen. Pretty cool stuff.
Mark Cuban MADE my first day.  I only attended one official session but I'll be surprised if it's not the best one I attend all week. It was a debate between Mark Cuban and Avner Ronan (founder of Boxee). It was absolutely fantastic. Cuban was arguing that the future of "TV" is not that we'll consume most of our content via the Internet but rather through cable and/or satellite (or at least the well-produced, high quality content).
Cuban's premise was from the network and content production side (i.e. the business side). Essentially his point was that with the Internet there are so many choices that the cost to produce and market content for that medium is a zero sum game. You basically can't make money on it. Whereas he can sell his programming to Comcast on a subscription basis which allows him to turn a profit, something he was happy to point out that Boxee has yet to do.
Avner was looking at the argument from the consumer standpoint. He was basically saying that more and more people will be connecting their TVs to the Internet and the consumer doesn't care whether or not the content comes from cable, satellite, or the Internet.
Both made good points and held their own. I have to side with Cuban not because I want to as a consumer, but I have to because he's right, today and in the near future there's just not a business model for mass scaling Internet TV. But as a consumer I sure as hell want it to happen! You can watch a little of it here:
We ended the night by trying desperately to find a place to eat that wouldn't require an hour wait and after walking around for at least an hour (we should have just stayed and waited at the first place, that's a good lesson for a newbie at SxSW), we ended up eating at Twin Liquors, which I'm embarrassed to say is like a little open van on the street. But damn if they didn't have amazing BBQ.