What's on my iPhone home screen today
I'm always fascinated by what's on people's phone home screen.  To me those are the only apps that matter.  If it makes it to the home screen, its usually a keeper.  There's probably a stat out there about the percentage of usage an app gets on the first page of your phone vs. the second page.  And don't get me started on the third page.
Here's what my home screen looks like today.  Yes, I have a lot of little red circles alerting me about things I need to update or complete.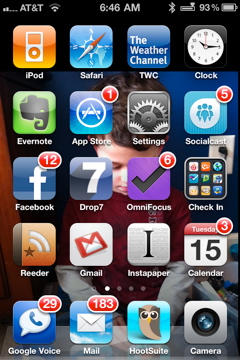 A few new things since I posted iPhone apps I loved in 2010 earlier this year.
Most notably is that I've taken the Phone app and the Messages app (sms) off of the home screen and instead, I just have the Google Voice app.  You can read more about why I switched to Google Voice if you want.  I highly recommend it.  I was texting people last night from my laptop…while on my flight back to Atlanta.  That's cool.
Reeder is a new addition.  I now use it for my Google Reader feeds.  @interpolate turned me on to it.  The thing I like the most, it will suck in all your new subscriptions so you can load it right before a flight and then read without wifi.  I haven't looked yet but I'm hoping they have an iPad app so I can do the same thing.
Lastly and sadly, I've taken Teuxdeux off the home screen.  In fact I've stopped using it altogether.  It's still a great little app/website and I love its simplicity, but I've recently absorbed a great deal more responsibility at Engauge and the number of to-do's I have and the deadlines associated have increased dramatically.  So I've decided to plunge headfirst into Omnifocus.  I have it on the mac and the iPhone and will get it soon for the iPad.  So far I like it a lot, but time will tell.  I just knew I needed something more robust from a to-do standpoint.
So, anyone else care to share their home screen? If so, throw up a flickr link or something (not sure you can add an image to a disqus comment).  I'd love to see what your screen looks like, maybe I'm missing something I need!