AdVenture: a terrific book about entrepreneurship that everyone should read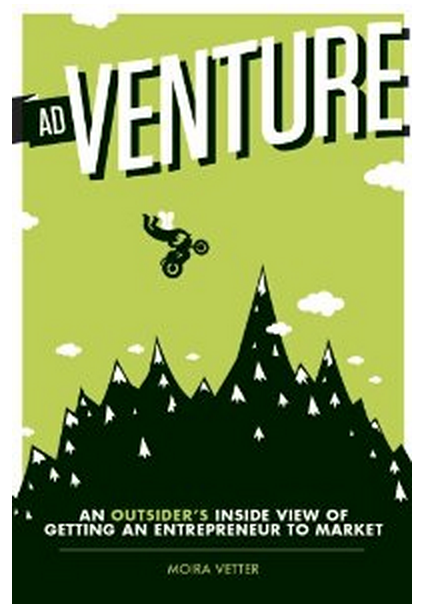 "If you are passionate about entrepreneurship, jump starting the economy or inspiring a new generation of enterprising young people, read and share my new book: AdVenture." That was the note that I received from one of my favorite people in business the world, Moira Vetter, about her new book. I pre-ordered it of course and received it this past Tuesday morning…and finished it Tuesday night. It was that good.
Aside from being a brilliantly designed and created book (in fact, I told her its the exact style of book I want to write one day), its full of great advice for anyone that either is an entrepreneur, works for an entrepreneur or simply wants to infuse more entrepreneurship into their organization.
It's also very affordable, so everyone should pick this book up and spend some time with it. Here are some of my favorite bits:
My favorite line in the entire book comes on page 117 (total of 119 pages): Moira Vetter didn't get serious about business until the second grade. Now that's badass.
She defines an entrepreneur as: An entrepreneur is so much more than somebody that starts a business. They seize upon an idea and marshal the resources to make it real. They are much more than business people – they are forces of nature.
There are some phenomenal quotes in the book as well, here are two of my favorites:
When work, commitment and pleasure all become one and you reach that deep well where passion lives, nothing is impossible. ~ Nancy Coey
I am looking for a lot of men who have an infinite capacity to not know what can't be done. ~ Henry Ford
There is also great insight in this book on product and company life cycles and anyone that is building something would be smart to read through the steps as she lays them out. She really captures both the power and importance of the entrepreneur as well as the team that surrounds them, each of equal but very different importance. Rarely do I read books on this topic that describe this point so well.
Moira talks a lot in this book about the journey of entrepreneurship. Specifically, she compares the journey to both an Evel Knievel jump and climbing a mountain. Here are two bits about that:
The success of the jump is simply a moment in time for the entrepreneur who sees the landing zone but is already pacing himself for the next big leap.
The climb is its own reward. For those that climb, rewards come not only from reaching the peak, but from the very decision to climb, from applying their capabilities and from their determination to succeed where others have not ventured. Entrepreneurs come wired for the climb and understand reward is not a static endpoint.
"The very decision to climb." I think that is one of my favorite quotes. I could even see that being the title of this blog, actually.
Then later in the book, she suggest that the entrepreneur is "preconditioned to enjoy each stage of (the) climb". For me this is very insightful. If she had changed this to suggest that the entrepreneur celebrates each stage, I would have disagreed based on my experience. But the words "enjoy" and "stage of the climb" are key here. As an entrepeneur, a very competitive entrepreneur to be exact, I have trouble celebrating the wins because I'm too busy, as she suggests in the book, "already pacing myself for the next big leap." I have to remember to celebrate the wins as much for myself as for the people working with me. But I do so enjoy every phase of the journey. Win or lose, its the journey that fuels the entrepreneur and with this, she nailed it.
Thanks Moira, for creating such a wonderful book and for sharing your vision with the rest of us. I know Chris would be proud ;)