Introducing my next chapter: Dragon Army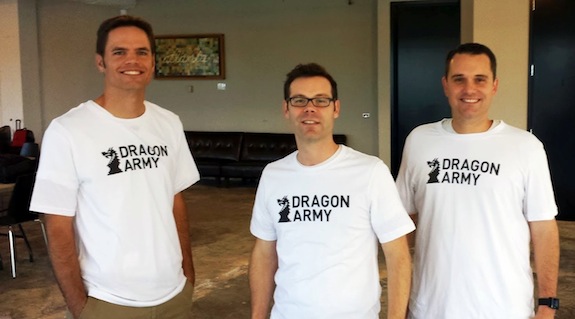 from left: David Cummings, Ryan Tuttle, yours truly
Chapter one was Spunlogic, which we sold to Engauge in March 2008. Chapter two was Engauge, which we sold to Publicis in August 2013. And in the immortal words of Monty Python's Flying Circus, and now for something completely different…
For those that know me, you know I've long been enamored with mobile technology and apps, particularly as they relate to consumers. While I've loved working in digital marketing, I've always wanted to try my hand at building software for actual people rather than for companies. And I've been dying to get my hands back into a true startup.
Today the Atlanta Business Chronicle ran an article about the new company, Dragon Army, that David Cummings, Ryan Tuttle and I are starting. Dragon Army will be based out of Atlanta Tech Village (freaking pumped about that) and we'll be focusing on mobile games and apps for consumers. We don't officially launch for a few more weeks and you can be sure I'll be updating with more information on what we're up to, but for you can read the article below to get more of the scoop and you can sign up for our beta program!
~~~~~
Here is the article from today's Atlanta Business Chronicle by Urvaksh Karkaria:
Atlanta has historically been a business-to-business software town — famous for building the computer programs that keep corporate America humming. Now, the city's most buzzed-about techpreneur thinks Atlanta has the chops to also build sustainable business-to-consumer mobile startups.
David Cummings, who last year sold his marketing automation startup for $95 million, will launch a "mobile app studio." The entrepreneur hopes to tap into surging interest in mobile computing, driven by the proliferation of smartphones.
Mobility is going to be critical to technology going forward, said Cummings, who juggles three kids and five Web-focused startups.
"Just as the Internet infused everything from a technology perspective for the past 10 years, the next five or 10 years is all going to be about mobility," Cummings said.
As smartphones become more powerful, consumers are doing more computing on their iPads and iPhones — making those platforms lucrative markets. "Nowadays, everybody has a phone in their pocket, or a tablet in their purse," Cummings said.
The number of Internet-connected mobile devices (smartphone or tablet) has grown an average of nearly 60 percent annually in the past five years, according to IBISWorld. The Los Angeles-based market research firm estimates that growth rate to hit nearly12 percent annually over the next five years.
Atlanta's telecom industry roots —­ the city is home to AT&T Mobility — makes it a natural site for mobile app development. A cluster of media and marketing companies, including Turner Broadcasting System Inc. and The Coca-Cola Co., attract graphic design, animation and digital media talent to the city.
"Atlanta has the largest number of digital agency workers per capita," Cummings said.
The region's schools, including the Savannah College of Art and Design, Art Institute of Atlanta and Creative Circus, churn out new talent.
Cummings will house the mobile app studio in about 10,000 square feet at Atlanta Tech Village, a $20 million tech startup hub he's developing in Buckhead.
By clustering the startups, Cummings hopes to create serendipitous interaction and cross-pollination of ideas, best practices and talent among the fledgling companies. The mobile app studio will also offer tenants programming, including iOS and Android workshops, mentoring and coaching.
While Atlanta has B2C "operational talent" — evident by the city's cluster of major media and marketing companies — it lacks B2C "entrepreneurial talent," Cummings said.
"We just need more successful B2C companies to take advantage of the talent," he said.
One inhibiting factor is Atlanta's community of angel investors and venture capital firms, many of whom have little experience with B2C startups.
Backed by his $5 million Atlanta Ventures fund, Cummings hopes to "de-risk" such investments.
By providing very early — or seed-stage — capital, Cummings hopes to give the B2C startups the breathing room to achieve financial milestones that would make them more palatable to investors higher up the food chain.
"If we place a bunch of $20,000 bets, it lets the startups marinate for three to six months, so they can show a prototype, show some early user adoption," Cummings said.
Dragon Army launches
To launch the mobile venture, Cummings is collaborating with Jeff Hilimire, co-founder of digital marketing agency Engauge Marketing.
On Aug. 14, Paris-based advertising conglomerate Publicis Groupe announced plans to acquire Engauge for a reported $62 million.
Hilimire and Cummings have invested $1 million in Dragon Army, a casual gaming startup that will develop franchise-like mobile games such as Angry Birds and casual games. Dragon Army plans to raise an additional $1 million.
Metro Atlanta is in its formative years as a game development hub. Georgia has more than 70 game studios, including CCP Games, Hi-Rez Studios, Kaneva and Thrust Interactive. More than 4,000 Georgia college students pursue game-related degrees.
Mobile gaming's market potential drew Hilimire's interest.
"It's the beginning of a new era," he said. "More and more people are going to be gaming on their tablets or phones than on their computers and consoles. It's handy, it's right with you."
Mobile gaming revenues are expected to grow 8 percent annually over the next five years, while console gaming revenue should accelerate about 4 percent annually during that period, IBISWorld analyst Dale Schmidt said.
"The mobile gaming industry is definitely in its growth phase," Schmidt said.
Smartphone games are targeting the casual gaming market, which has been mostly untapped by the console and PC game industry, the analyst said.
Casual gamers who were using consoles are increasingly switching over to mobile gaming because it's less expensive.
Mobile games are mostly free, or cost a few dollars. Console games typically require a several hundred dollar investment in hardware, plus $50 to $60 for individual game titles, Schmidt said.
As a startup, Dragon Army must compete for consumer attention among a slew of bigger and deeper-pocketed competitors. Figuring out a sustainable monetization strategy — paid downloads, in-app purchases or ad-supported — will be another challenge.
"Only a very small percentage of these end up being profitable," Schmidt said. The industry is filled with a few wild success stories (such as Angry Birds), while the majority of mobile game developers struggle to turn a profit, he said.
Hilimire said he plans to use digital marketing techniques to raise consumer awareness and develop new distribution and monetization models for Dragon Army's titles.