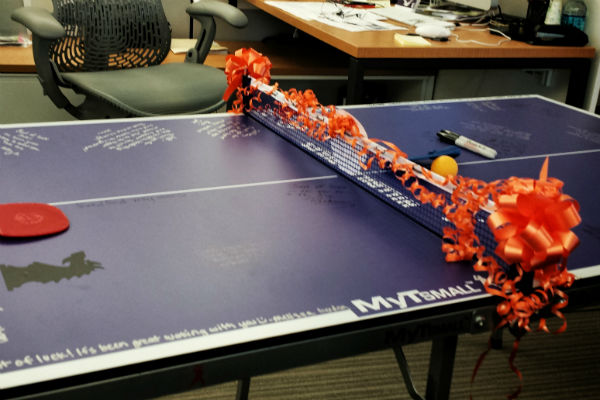 The process for leaving Engauge and starting Dragon Army was kind of drawn out for me. It took many months to finalize the acquisition to Publicis and transition my responsibilities. So the last day, like the very last moment, really kinda hit me.
The team sent me off in style on Thursday, presenting me with a miniature ping-pong table (probably six feet in length, really high-quality), signed by almost everyone with yearbook-type quotes and words of encouragement and reflection. It was an incredible gift and something I'll cherish forever, and I think this guy had something to do with it.
They also took me for drinks to celebrate and that was lots of fun. Engauge has some of the very coolest people in town and it was the perfect send off – drinks were had, stories were shared and hugs were in abundance.
Then this past Saturday I went to the office to pack up my stuff. I took some time to think about what we had built, the company we created, our wins and our losses, and the amazing people that I'm leaving behind. I walked around the floor, looking at the desks and empty conference rooms. I walked past the wall of everyone's individual photos from all the offices…and sadly removed mine. When I made it back to my desk (remember, I don't believe in having an office), and I saw it completely barren, I have to admit I had a moment.
It's a remarkable thing to work at one company for 15 years. From the time I was a senior in college until last Friday, this was my job. A piece of me will always be with the team at Engauge. I wish them the best and am excited to make the transition from teammate to "biggest fan".
#iloveyouguys