8 things I learned from Danny Davis about leadership at our fireside chat last night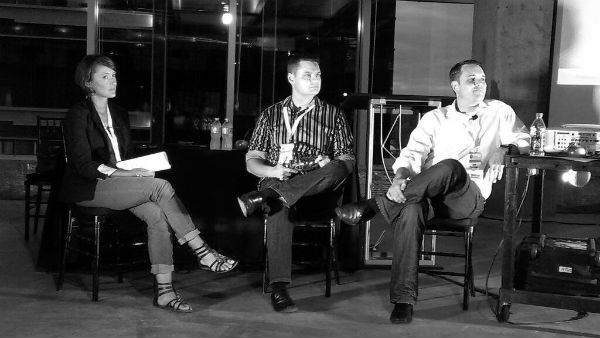 (thanks for the great photo, Jay!)
Last night my good friend and marketing extraordinaire, Stephanie Critchfield, interviewed Danny Davis and I in a "fireside chat" on leadership at Digital Atlanta. Danny and I were partners at Spunlogic (along with Raj and Raghu) so it was fun to talk about our experiences, both together and then separate (Danny started Proving Ground over three years ago and I stayed at Engauge until recently starting Dragon Army). I LOVE talking to other entrepreneurs and leaders about their experiences, and last night was no exception.
The 8 things I learned from Danny Davis about leadership
The best way to lead a company is to lead by example. Danny lives and breathes this, which is why I believe he's been such an effective leader in the various roles he's played at companies.
Be authentic. Danny and I used to work with a leader that would give the phoniest, fake-passionate speeches that would leave everyone rolling their eyes and begging for it to stop. That kind of fake inspiration never works. Instead, what I've observed Danny do over time is to be as authentic as he could be. And he taught me along the way not to put up with people that aren't.
If your company is broken, a new hire or a software fix isn't going to help. We learned this the hard way at Spunlogic. When we weren't growing, we tried to hire salesperson after salesperson to fix it. And while we had a few good ones, most didn't pan out. We just weren't set up to grow at the time. Danny has also always been an advocate for not relying on software to solve a problem. If you aren't running projects well, its most likely a process problem and not a software problem.
The importance of the pivot. I've watched Danny successfully pivot a few times at Proving Ground. That's hard work! Taking your company and your vision and pointing it in a new direction is something that takes confidence, support from your team and the foresight to follow through on it.
Be conscious of the company you keep. I don't know anyone better at this than Danny. He left Engauge mainly for this reason and I put up with it much longer until I found a way to solve the problem without leaving. The company you keep reflects on you personally and you need to look in the mirror and feel good about who you're hanging out with and whether its worth it or not. As a leader, this is especially important. People will notice.
Importance of your personal brand. Everyone who has worked with Danny has loved working with him, and this was never more evident than when he left and started Proving Ground and people flocked to work with him. If there a better indicator of a great leader than when that happens?
Don't outsource critical areas of the company. We had a question from the audience about what you can outsource as you grow your company and what you can't. Danny smartly pointed out that you should never outsource the critical areas of your business. Outsource the things that aren't as important that take your focus away from the more important tasks, but keep those that are critical close.
Learning how to delegate is tough, but critical. We talked a lot about this last night and both agreed that learning how to delegate as leaders was a critical skill in our growth and one of the harder things to achieve. But its a requirement if you're going to be the leader of a growing company.
Special thanks to all of our friends that came last night, it was great to see all of you guys!