Hm, feels like time for some resolutions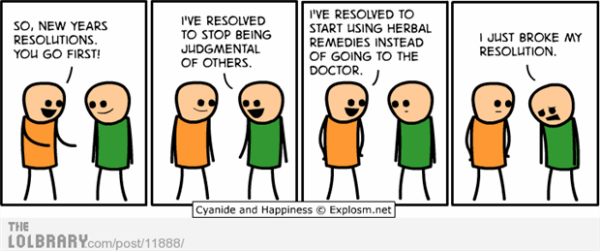 Yep, Christmas is over and New Years is fast approaching, so it feels like the right time for some resolutions for 2015.
Side note: This drives my wife nuts, but I get equally as excited about the holiday season coming as I do with the holiday season ending. And not because I don't completely enjoy the holidays – I love the time with family and the ability to unwind – but because I get excited about what the new year is going to bring. What's not to love about the potential of a brand new year!
Ok, on with the resolutions. Although this list could have been much longer, I've landed on just four things to focus on next year so that I actually have a chance to achieve some of them:
Be more present at home, or in other words, less electronics! Ever since the smartphone was created computers were created I discovered comics and video games I was born, I've had a hard time not being distracted by "things" that give short-term enjoyment. There's nothing in this world I love more than spending time with my family, but it can be tough to remember that when there are a million tiny distractions shouting out to me from any number of electronic devices. More games with the kids, more dates with my wife and more family activities! And now that half my family can read, we've been trying to spend more time reading as a family and the Kindle allows me to be less distracted because unlike a smartphone or tablet, all you can do is read books on it. Which leads me to…
Read more! I'm fully aware that reading makes me smarter and a more thoughtful person. I've pretty much stopped reading fiction books and instead am reading books that deal with topics I'm interested in (not that there is anything wrong with fiction books, in fact, I wish I read more of them. I've just become less interested in fiction books as I've gotten older.) For example, right now I'm reading 40 Chances: Finding Hope in a Hungry World, and its completely changing my understanding of the suffering that surrounds world hunger. I'm shocked by how unaware I was of the depths of this tragedy.
Also, my wife got me the Kindle Voyage for Christmas, and its AMAZING. Lighter than the Kindle Paperwhite, it also has a crystal clear display which always bothered me a little with the previous Kindles. I'm super spoiled having the Retina Macbook and thus, anything I look at that is pixelated at all kind of bothers me. Talk about #firstworldproblems.
Final point on reading: I'm keeping a list of books I want to read in one of my Trello boards (more on how I use Trello as a to-do / priority list), so that when I finish one I can look through the list and see what kind of book is the most interesting to me at that time. I'd welcome any suggestions anyone might have for me!
Promote more people/efforts that are "doing good". There are so many people out there devoting their lives to trying to do good in the world. From large organizations like The Boys & Girls Club and Year Up, to entrepreneurial efforts like my friend Rohit's, Center for Civic Innovation, I need to do a better job of helping these groups in any small way that I can, starting with sharing them with you! I'm also going to continue to focus more on the boards I'm on and the non-profit efforts I've started (all listed at the bottom of my about page).
Write less, but better. I started 2014 by writing every day, which I did for months. And I really enjoyed that process. It pushed me to continue to think and build my writing skills. But unfortunately I couldn't keep up with my favorite blogger, David Cummings, (he's been writing every single day for YEARS) and I realized that for me, a few times a week was a more realistic cadence. My resolution for next year will be to continue to write a few posts a week, but to spend more time on those posts.
That's it, that's my list. More quality time with my family, read more books, do more good and write better blog posts. Sounds easy enough ;)