"With this thing you're doing to help the community, what's in it for YOU?"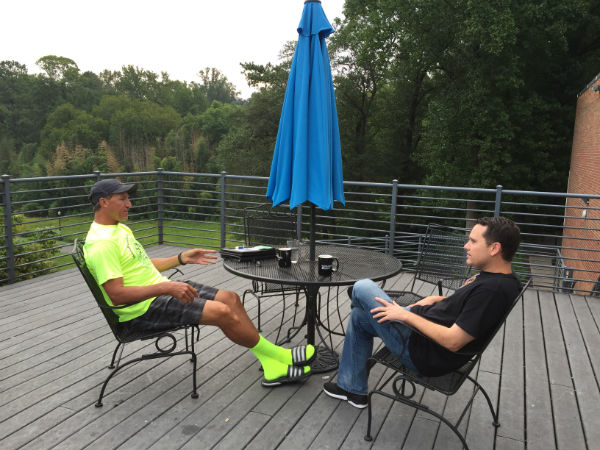 Yesterday morning I had coffee on the Dragon Army deck with my first tennis coach, Dave Mathews. Dave is so many things to me, but friend and mentor are probably the two best descriptions, in that order. He's been a gigantic influence in my life for the past, GULP, 25 years. Wow, I'm old.
After catching up on old times, we started talking about things that we were both doing to help the community. Specifically, we talked about the nonprofit Dave has created, Bike Friendly Atl, and the nonprofit I've created, 48in48. I realized after this conversation that Dave's drive to help others, which comes from a place of complete purity, is a huge reason why I find myself doing the same thing.
Dave's influence on my life when I was such a young man, and then my experience a few years ago with Leadership Atlanta, propelled me to want to do more to help other people. Why? Well, just because, I guess.
When I talk to people about the things things I'm involved with from a social / community perspective, I often get the question, "So, what's in it for YOU?" It's a fair question, for sure, but it's missing the point completely. While there are personal benefits to helping other people, that shouldn't be the reason you do it. You should do it because, well, you should do it :)
But there are side benefits to doing good, for sure. Outside of the impact to the actual people you help, here are some other reasons to spend more of your time helping others:
You'll feel great. Nothing makes you feel better than helping someone that really needs help. Here's a quick experiment: Get a $20 bill. Walk up to a homeless person on the street, ask them if they need help (they do!), and hand it to them. Their face will light up, tears will start to form in their eyes, and they will give you a huge hug. And you will feel great FOR DAYS.
You'll meet people that inspire you. If you start doing more good, you'll start meeting other people that do good. I love reading about business leaders, or great tech entrepreneurs, but the people that inspire me the most are people like Brett Hagler, the CEO of New Story. Over the last year, no one has inspired me more than Brett.
You'll inspire others to do good! And they'll do the same, and before long, the world is a better place to live.
You'll be more successful. By spending time doing good, you'll meet new people and increase your network, you'll inspire others, and you'll generally be happier in your life which always leads to doing your "job" better.
Those are just a few of the intangible benefits of doing good. I'd prefer you do it simply because it's the right thing to do. I'm 100% positive Dave Mathews didn't create Bike Friendly Atl for any other reason than to help raise awareness of bike deaths across Georgia in the hopes of saving just one life.
If you're looking for ways to get involved with your community, here are a few of the things I've created to help you do that:
Sign up to participate in 48in48, where we'll build 48 websites in 48 hours for 48 nonprofits!
Use Advice For Good to earn a meeting with a mentor by donating some of your time to a charity.
Sign up for Match Atlanta and use your marketing skills to help a nonprofit be more successful.
Now go out there and do some good :)