How my friends (and I) manage Twitter followers #twitterpoll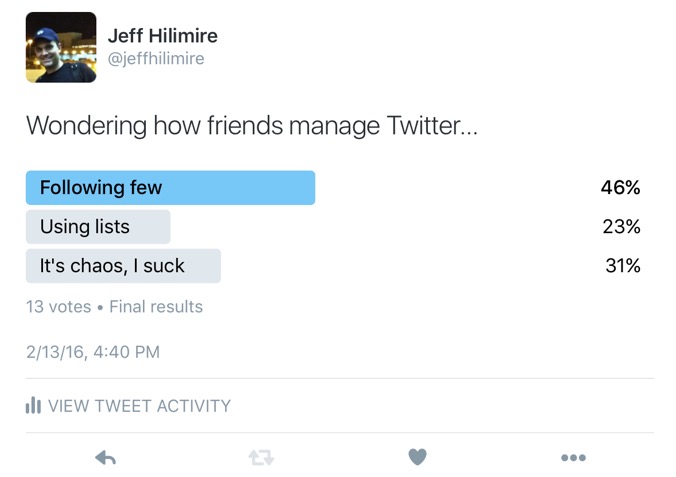 I'm curious how people use Twitter these days (me on Twitter). I've recently gotten back into Twitter as a way to engage with friends and get an additional source of news. Recently when I blogged about how I get news/content, I didn't even list Twitter. But a few of my close friends surprised me by listing Twitter as one of the top ways they get news, and that swayed me to give it another significant try.
Quickly I realized I followed far too many people. I asked someone about this and they said that with Twitter, you don't have to follow everyone you've ever met (the way you might with LinkedIn), nor do you need to follow everyone you simply like (the way many do with Facebook). Instead, it's ok to follow only the people on Twitter that are talking about topics that you're interested in. That doesn't mean you don't like them, you just have different interests (or you use Twitter to discuss different things.)
So I reduced the number of people I followed down to a more manageable number (today just under 400) and added a few select news sources (mostly related to mobile marketing and politics.) And Twitter is now so much more interesting. I used to use Lists to manage this but I found it cumbersome to have to go into various Lists in order to find meaningful content.
Oh, I also discovered Twitter Polls, which are kind of cool, and I ran one to find out how people use Twitter. You can see from the image above, most of my followers do what I've now done and simply follow fewer people vs. relying on Lists.