Things are starting to take off…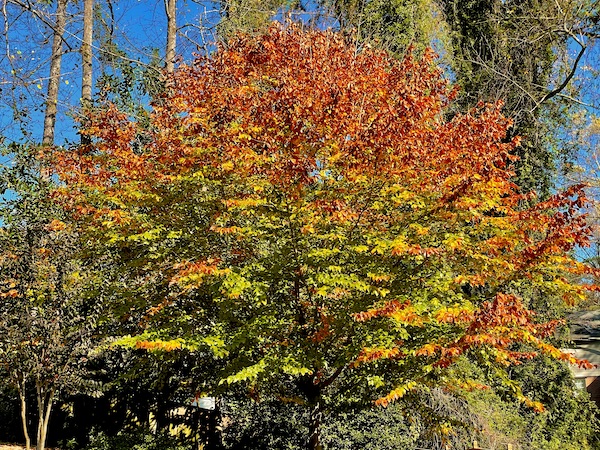 I gotta say, I'm pretty psyched after the last few weeks (and not just because of the weather, but seriously, how great is this weather?! That tree above is from my backyard…)

Here's a quick run-down of some things I'm really thankful for

After feeling the impact of COVID-19 in major way starting in March, Dragon Army has had several great months in a row. I'm excited to share that we were able to make it through the year without losing any of our team members, which was my #1 goal. And one of our team members had a beautiful baby girl this past week!! ❤️

48in48 had some terrific news this week with a potential new partner, and our plans for 2021 are going to be really excited. I'll be sharing news on both of those soon…

Last Thursday, I dropped off 50 copies of my book, The 5-Day Turnaround, to a massive corporation in town that is having me give two book talks to their leadership team this coming week! Before COVID struck, I had over a dozen book talks scheduled, including one to a group of over 500 people out in San Francisco (for a major social network..shhhh). All of that was canceled, obviously, but I've been able to work with a few corporations to give talks over video this year. Let me know if you're interested in the same, I'm fairly available :)

The podcasts are heating up, with a few really fun episodes launching recently, including:
And here's me burying the lead…the election went the way I wanted it to, and Georgia has a chance to really shake things up over the next several weeks. Let's do this! 🎉
Also, if you've been reading this email series, you know I suffered from unexplained, often debilitating dizziness for several months (thank you for your notes of support and advice). I'm happy to say that it appears to be behind me, and this week I was able to start exercising again.
And most importantly, my family has been able to stay healthy so far (let me pause real quick and find some wood to knock on). Based on where trends are heading right now with COVID, we intend to stay just as quarantined and as careful as we have been.
So yes, things are going really well in my world right now. I appreciate all of you, and hope you're also stringing a few great weeks together.