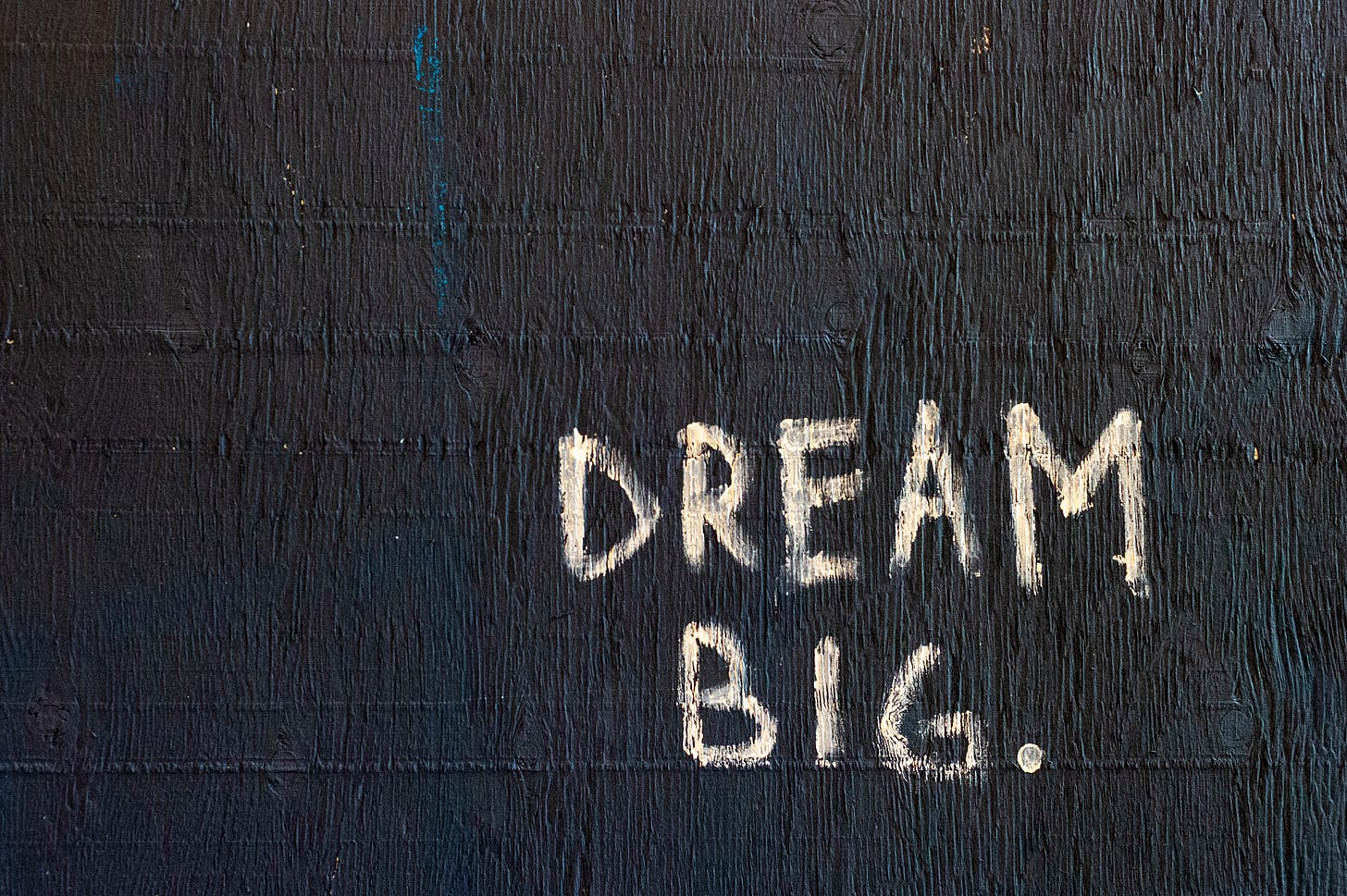 As an entrepreneur, I've started a lot of things. From Spunlogic, to Dragon Army, 48in48, Ripples of Hope, and The A Pledge, and even from things you likely never heard of because, well, they failed (MATCH, HomeGrown, and yes, SportsBro 🤦🏻‍♂️).
So I like to start things, is the gist. In all cases, and as they should, those ideas started as something small.
"Let's try to build some websites for people."
"Let's try to build websites for nonprofits…for free."
"Let's help a few nonprofits build stronger, faster-growing businesses."
"Let's fight systemic racism in our industry." (Ok, admittedly that started as a big one.)
I've learned, however small an idea is to start, if you're going to pursue it, you must be able to envision just how big it can, and should, become. And so in this issue, I want to share how I've learned to dream big(ger).
48 -> 1,000
In early 2015, I landed on an idea that seemed crazy at first. (Still kinda does, if I'm being honest.)
What if I could bring a few hundred people together over a weekend, with the goal of building 48 nonprofit websites? Could that be done in 48 hours? Would anyone even show up?
That October we put on our first event, and I honestly thought it would be a one-time thing. People showed up excited to use their skills to do good, and amidst the insane amount of chaos that weekend, somehow we got the job done. As we moved closer to the end of the event on Sunday, I thought to myself, "Job well done." Or, more to the point, job DONE. That was fun, people seemed to enjoy themselves, now on to the next thing.
Around 3 PM the first person came up to me and asked if they could put their name on the list for next year's event. "Next year?" I asked. "Yeah, I just want to make sure I don't miss out because I'm sure a lot of people will be signing up."
Next year?
And then another person came up and said the same thing. It kept happening. One exhausted person after another seemed to want to punish themselves again next year. So eventually we created a 2016 sign-up form and set it at the support desk. When I checked it later that night while we were cleaning up, a few dozen people had signed up for the 2016 event that I never thought we'd be having.
Fast-forward to this past weekend. 48in48 put on its 22nd event, and our volunteers built their 1,000th nonprofit website! ONE THOUSANDTH! I never in my wildest dreams would have imagined, way back in October of 2015, that 48in48 volunteers would build over 1,000 websites.
And here's the kicker: our websites are valued at $25,000 of donated services, which means we have now, in our short six years of existence, donated over $25,000,000 in services to nonprofits around the world.
1,000 The A Pledge volunteers
I've long wanted to do something specifically focused on racial equity and social justice. Ever since I went through Leadership Atlanta in 2013, I knew I needed to find a way to make an impact against systemic racism.
The idea came to me a few years later that the best way for me to do this would be within my industry – marketing and advertising. Because I've been in that space since I started my first company in college, I knew my best chance to make a significant impact would be through utilizing my network, relationships, and, dare I say, influence.
What if I could create a pledge for marketing and advertising agencies to commit to making real, tangible progress in the fight against systemic racism? Wouldn't Atlanta be the best place to do that, given our legacy in civil rights?
It took me four more years to figure out how to get started. In 2020, I began reaching out to agency and brand leaders to get a quick temperature check on my idea. I ultimately chose nine other passionate leaders to join me to create The A Pledge, with this mission:
The A Pledge is a call to Atlanta advertising and marketing agencies to come together in a committed effort to create inclusive opportunities within our industry. Over the next decade, we will make the changes needed to ensure our teams reflect the diversity of our community. As we do, we will see systemic opportunity grow in our industry, our city, and our nation.
We officially launched in December of 2020, asking agencies, brands, and volunteers to raise their hand if they want to join us on this fight. The response from the Atlanta community has been almost overwhelming, with well over 1,000 people joining us in just three short months. And while the real work is only now just beginning, I believe with my whole heart that we will hit our goal, because we are working as a passionate, committed, and accountable community.
The point
Start with an idea. An idea that you're passionate about, and one that you believe you can commit to.
Wrap your head around the fact that, without execution, an idea is just that. Consistently doing the work is the only way to have any meaningful success.
And dream big. No, bigger! How massively world-beating can your idea be? The strength of an idea is in how far you can push it. Once you have your big vision, share it with everyone you can. People like ideas; but people will work all weekend toward a big vision that allows them to see how they're helping change the world, even if it's by building one website at a time.
Before you leave
Thank you for reading. I really do appreciate it, and I really do hope you're happy.
I would love it if you consider signing up for my email newsletter. I send it out weekly, and I try to do my best to make it entertaining and, if I dare say it, inspirational.
If you're a book reader, I'd love for you to check out either of my books: The 5-Day Turnaround + The Crisis Turnaround. They're a heck of a deal on Amazon right now ;)
And if you're interested, here are the businesses that I'm a part of:
And remember, always lead with purpose!