10 ways I'm staying healthy during the 2020 quarantine
At Dragon Army we created a Slack channel called #healthydragons for our team to share ways that they're working hard to stay healthy during this quarantine period. And someone created a '10 ways I'm staying healthy' list and everyone started doing the same, including me :) And I thought I'd share that with you all and see if anyone wants to share back!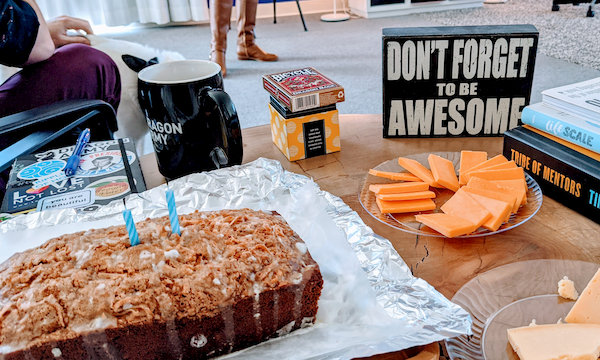 The 10 ways I'm trying to stay healthy
Get up at the same time every day. For me, that's 6am. The first week or so, I decided to sleep in until I wanted to get up. It's important for me to get back into a routine, even if the rest of the day isn't going to be so normal.
Start with a healthy breakfast. Eggs, some fruit. No cheese, butter, etc.
Some form of stretching, ideally 30 minutes of yoga but at least 5 minutes of yoga stretches. Yoga (at least) 3 times per week.
Inbox zero. Helps my mental state.
Embrace video chats. In the last week I've done more video chats than I have in my entire life. They're fun, and they do give me a little bit of that social connection I'm missing so much. Moving more to Zoom from Hangouts, FYI.
Go on a few walks each day. Always a night walk with the family after dinner. I love walk-and-talks with team members, so I've started doing that when on calls or video chats.
Run 3-4 times a week. Take the dog, even though she often behaves like an escaped mental patient for the first mile.
Be present while in the house with the family during work hours. It's hard for the kids to see me and not be disappointed if I don't engage with them. If I go into the kitchen or living room, engage with the kiddos for a few minutes.
Shut it down at 5 or 5:30 pm, and leave it down. With work blended into the household, it's easy to keep checking email and responding to things into the night. And on that note…
…read more! What a great time to read more books. Also, I'm going to always have a puzzle going. Yes, I'm old-ing quite impressively over here.
I'd love for you to share your list!
---
Before you leave
I run a weekly email newsletter where I send interesting articles and books I'm reading, productivity hacks, leadership lessons, and an update from that week's blog posts. There is exclusive content that only comes out in the email!
If this sounds interesting, you can use this link to sign up!