7 questions with leadership coach, Katie Adkins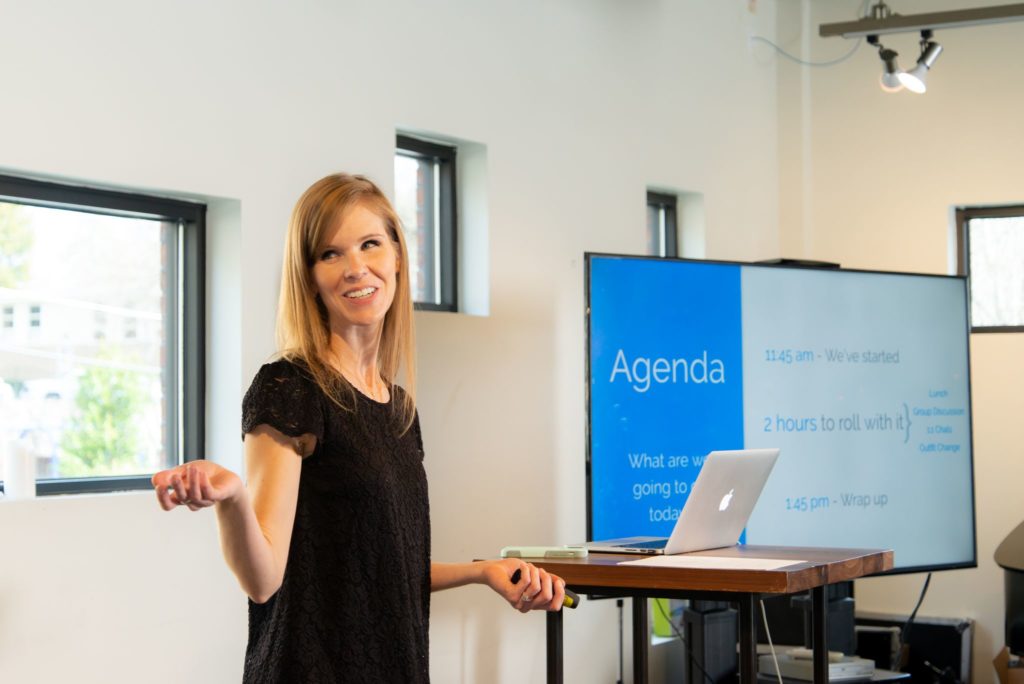 I'm so excited to get a chance to "interview" Katie Adkins on my blog. She was a teammate of mine at Engauge and also is a core member of the team at Ripples of Hope!
I wanted to learn more about her journey to becoming a leadership coach and what she is focused on, and figured I would share it here as I think anyone would be lucky to work with Katie.
What do you do? As the Founding Coach at Adkins Talent Solutions, I partner with highly-motivated professionals to help them find clarity and create meaningful change at work and in life.
Who do you work with? My clients are lifelong learners who desire to make a difference through listening, learning, and leading. My clients' professions range from CEOs to sole-entrepreneurs to individuals in between jobs. The common thread between all of my clients is that they care deeply about their work and their families/community. They tend to put a lot of pressure on themselves. They are committed to their growth in order to better help others.
What is coaching? Well, the answer depends on who you ask. Coaching is not a regulated term, so anyone can call themself a coach. Many people default to what they are familiar with. One of the most common uses of the term "coach" is in sports. Sports coaches instruct players or athletes. For example, I was a swim coach when I was in high school. I studied techniques, planned out practices, and told the team how to improve their stokes or swimming skills. Of course, any good sports coach also listens to their team members in order to understand their strengths, weaknesses, hopes, and fears. Some professional coaches act like sports coaches by telling their clients what to do to find their dream job or how to create a successful business. I'm not that type of coach.
What type of coach are you? I act as a processing partner. I don't tell my clients what to do. I listen and ask thought-provoking questions to draw out my client's expertise, insight, and dreams. I align with the International Coaching Federation's (ICF) definition of coaching, which is "partnering with clients in a thought-provoking, creative process to maximize their potential." The ICF identifies 8 competencies that coaches must follow in order to receive ICF certification. I continue to study the competencies and follow them with my clients. I listen back to my client coaching sessions to see where I could have improved to better align with ICF's competencies. It is important to note that not all coaches always follow the competencies. Each coach is unique. It is important that you find the right coaching fit.
Are you a life coach or business coach? Both. Life impacts work. Work impacts life. If you don't believe that then I'm not the coach for you. Coaching is about you as a whole person: your values, goals, work, balance, fulfillment, and life purpose. I use my coaching skills and training from Co-active Institute, Emory Executive Coaching Program, and more to help my clients process and move forward.
What does my coaching process look like? I always have conversations with potential clients to make sure we are a fit. I work with motivated professionals to identify their desires and begin to make changes in their lives. We design a plan that is specific to their needs and aspirations. Change takes commitment, time, and follow-through. My clients commit to at least six months of coaching with me. Coaching engagements include a discovery questionnaire and dedicated one-on-one coaching sessions (via video or phone). I work with each client to customize the frequency and length of their sessions. These sessions are 100% focused on the client's goals. As the client, they drive the coaching agenda. As the coach, I guide the creative process to help them find greater clarity and take steps towards achieving their goals. I hold all information shared during coaching as strictly confidential.
Why are you passionate about coaching? People need people. And some need a processing partner. I know because I'm one of those people. I've seen the power of coaching in my own life! I'm a verbal processor. I need to talk through my feelings and thoughts to find clarity. I've found I usually know what I want to do. Receiving coaching allows me to process in a safe, confidential space. I have seen how being asked unbiased questions can open my mind to new possibilities. Coaching has helped me achieve my goals and feel empowered to move forward!
What else? As I said, I love questions! Feel free to send me your questions via email ([email protected]) or give me a call (770-241-3333).
Before you leave
As mentioned above, I run a weekly email newsletter where I share interesting articles and books I'm reading, productivity hacks, leadership lessons, and an update from that week's blog posts. There is exclusive content that only comes out in the email!
If this sounds interesting, you can use this link to sign up!